2 June – 30 September 2020
The Silver Museum, Schoonhoven, Netherlands
Social distancing measures are in place, please book tickets in advance
No Results Found
The page you requested could not be found. Try refining your search, or use the navigation above to locate the post.
2 June – 30 September 2020
The Silver Museum, Schoonhoven, Netherlands
Social distancing measures are in place, please book tickets in advance
24th September – 6th October 2020
Goldsmiths' Fair
Goldsmiths' Fair is recognised internationally as the premier UK showcase for contemporary jewellery and silver
I have recently completed a commission for New College Oxford, Waterfall Beaker, which joined the college silver collection in November 2019.
I have recently completed a commission to make a sculpture in silver for the British Alliied Trade Federation to commemorate the end of the First World War.
The commission, titled Silence Fell, is on display at BATF offices in Birmingham, viewing by appointment.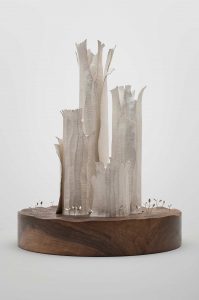 I was delighted that three of my pieces were exhibited at Homo Faber: Crafting a more human future organised by The Michelangelo Foundation for Creativity and Craftsmanship and held at Fondazione Giorgio, San Giorgio Maggiore Island, Venice, in September 2018.
The Company of Old Roads, 999 Fine Silver, walnut, Collected Poems of Edward Thomas. Commissioned by the P&O Makower Trust, on permanent display in the silver collection at the National Museum Wales from the December 2017.